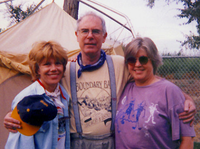 I recently rescued this item from another journal site after ten years. A good memory bears repeating.
Sep 27, 1999 -- When I was in the second grade in 1949-50, my two best friends at Longden School were Suzanne Holmes and Annette Blanchard. At the end of the day, I hated to get on the school bus to go home.
Suzanne and Annette and I have gone down mostly separate roads over the past few decades, but it's been my great joy to renew our friendship since a class reunion in 1990.
In August of 1998 they invited me to go canoing on the Green River in Utah, near Annette's home. Suzanne came from Southern California, and I came from Seattle. We camped out along the river for nine days, along with Rocky Mountain friends, Dion Corkins, Alene Watson and Sandy Dickinson. Pictured at right are Suzanne, Rees and Annette on the rainy first morning of the ten day excursion. Strangely, I'm the only one with white hair.
After nine days of paddling (see pix below), we were happy to let the jet boat carry us back up the Colorado to Moab. Guess what! Again a school bus.
It turns out that I was never so smart again as I was in the second grade. All things considered, I'd rather be in the canoe. Although I'm fairly sure I was invited for my ability to fling large bundles onto the bank from the canoes, I don't mind; the company made it all worthwhile -- no, wonderful. At the end of the trip, I hated to get on the school bus to go home.
Plus ça change...
Here are some photos by Suzanne.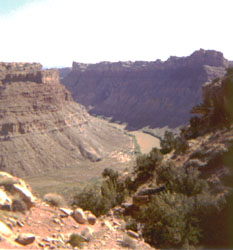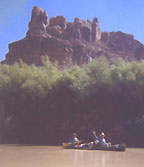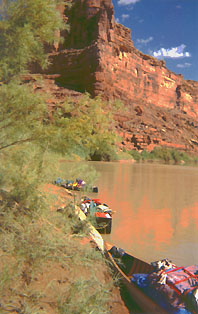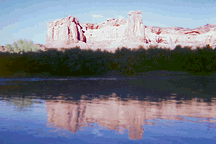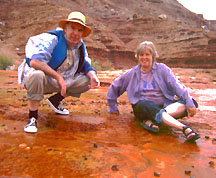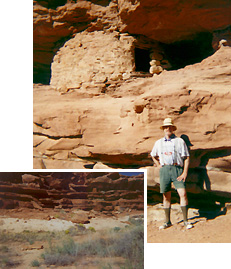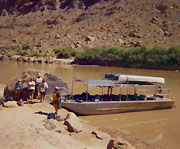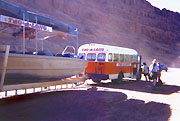 The moral of the story is that if Annette Blanchard Rose ever shows you a picture she drew of a flower pot, say something nice. It may take 50 years, but there's a huge reward. (I could explain, but it's a whole other story.)