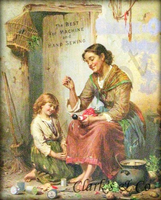 Since 2013 I've been working with some associates in Johnstone, Scotland, on a website for the local history society (http://johnstonehistory.org/).
Johnstone is in Renfrewshire near Paisley, where my maternal great-grandmother Lavinia Fleming Goodwin began spinning thread at the Clark Thread Co. (no relation) around 1865 at age six.
In 2015 I ran across this ad from the 19th Century, which suggests a more idyllic life than she probably led, though those Clarks were more progressive than many mill owners, in that child workers did get a free half-day of school while working the other half (How many hours? Your guess is as good as mine).
My grandmother, who would have been the daughter of a girl like the one in the image, became a first-rate seamstress and made a good portion of the clothes I wore as a boy, including some that got me teased by my friends.
Here is Lavinia in 1896, with her husband Thomas McKee Goodwin and her surviving children. The children are Thomas and Rachel, standing, and seated L-R are Vina with father, Edna with mother, Anna (my grandmother, Anna Goodwin Davis, wearing the black dress), Elizabeth, and Mabel.